Cats At Play
Some Fun Out of School
Large format book with full color cardboard cover, 10" x 12" page size, with 5 full page 4 color prints, all signed by Louis Wain

12 pages, additional pages have smaller color & black and white illustrations (not signed).

Overall good to very good condition, with some spotting on pages with printed material. All color prints are in excellent condition.

Contains contains 45 pen and ink drawings by Louis Wain, 50 pages, color cover with very small white spots, Fair to good condition, handwriting inside front cover and on back cover, cover has some wear on edges, black & white drawings on each page.

Price:
SOLD

Go to SECURE ORDER FORM or call 202-213-1585 (10 am - 9 pm East Coast Time)
We also accept PAYPAL - Submit Secure Order Form with request to pay via PAYPAL.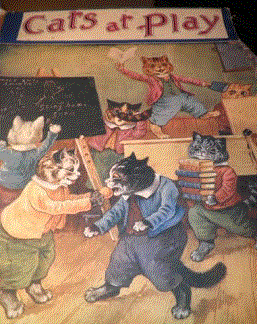 Front Cover